Industrial Advisory Board
Industrial Advisory Board
Mission
The Industrial Advisory Board (IAB) exists to support and strengthen the microEP Graduate Program through critical review and constructive criticism of the microEP educational techniques, academic courses, and research areas. The microEP program depends on the IAB members to use their industrial backgrounds to bring a non-academic perspective in reviewing the microEP program elements to assure their continued validity in preparing its students for early career success.
History
The microEP graduate program was firmly grounded in industrial perspectives at its inception by the fact that its founding Director, Professor Ken Vickers, had over seventeen years in both engineering management and worldwide team management at Texas Instruments. This strong industrial emphasis was continued when Professor Ron Foster joined the microEP management team as founding Director of the UA Innovation Incubator after twenty years of engineering management experience at Honeywell.
As the microEP Graduate Program approached its fifth year of existence and the graduation of its first PhD microEP student, it seemed the appropriate time to create a formal external advisory committee composed of representatives of the technology-based industry sectors supported by the microEP program. The first meeting of this IAB was held in October of 2002 at the University of Arkansas, with activities both on campus and at the Genesis Center in the Engineering Research Center.
Tactics
The microEP program management team will call an on-campus meeting of the IAB at least on an annual basis, or sooner if program changes initiated by the IAB and/or the microEP faculty group reach the point where review is warranted before further changes are implemented.
Continuing communications with the IAB members will be made via email communications and through internet video conferences and/or teleconferences.
The microEP faculty will review IAB suggested changes for appropriateness in the academic arena, and approved modifications to the microEP program will be implemented through the next program approval cycles in the Colleges of Engineering and Fulbright College of Arts and Sciences.
IAB Members
Mike Seacrist
GlobalWafers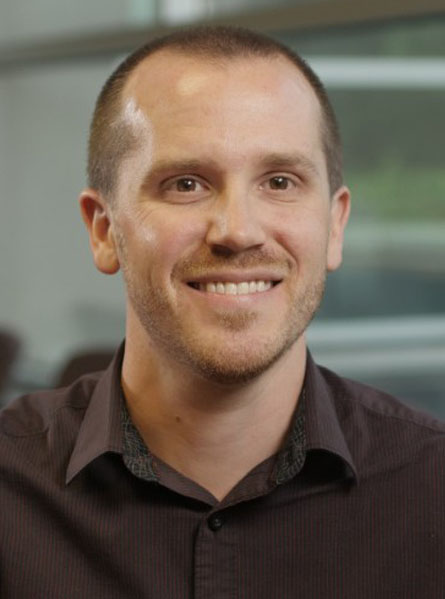 Greg Forcherio
Naval Surface Warfare
Center (NSWC)